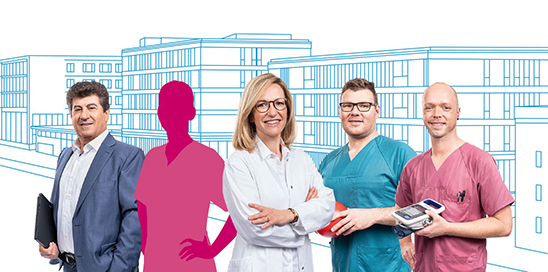 Fortschritt
Gemeinsam in eine Richtung gehen, heißt auch, dass wir offen sind für neue Impulse, die aus verschiedenen Richtungen einfließen. Das Universitätsklinikum möchte Sie als neuen Impulsgeber kennen lernen.
2 x Wissenschaftliche Mitarbeiter/-innen (Promotionsstelle/PhD-Student) (d) (7033)
Klinik und Poliklinik für Kinder- und Jugendmedizin - Pädiatrisches Forschungszentrum
in Teilzeit 26 Std./Woche, befristet auf 2 Jahre (mit Möglichkeit der Verlängerung, Drittmittel)
TV-L EG 13
Eintrittstermin: zum nächstmöglichen Zeitpunkt
Our research group is dedicated to experimental and clinical topics on pediatric endocrinology and obesity at the interface between experimental basic science and clinical medicine with particular emphasis on the study of the pathomechanistic and molecular mechanisms of obesity and related disease. Our team is integrated in leading local as well as national research consortia (Collaborative Research Consortium CRC "ObesityMechanisms", HI-MAG Helmholtz-Institute of Metabolismus-, Adipositas- und Gefäßforschung, LIFE Child). We are coordinating the SaxoChiLD Leipzig-Dresden partner site of the German Center for Child Health.
Die Herausforderungen
The study of the development of adipose tissue and its interaction with other (patho)physiological processes as the underlying mechanisms of early childhood obesity and related disease is scientific focus of our work in an approach that combines experimental studies, epidemiological and clinical studies.
Aim of the PhD projects is:
the functional experimental and clinical characterization of regulatory factors identified in epidemiological and multiomic approaches in our cohorts and potentially involved processes related to childhood obesity. In particular, molecular candidates will be characterized regarding their relevance for adipose tissue accumulation and adipocyte differentiation at the molecular and cell biology level in cell culture models, in zebrafish, as well as in patient samples.
The identification and functional characterization of epigenetic candidates for early progressive childhood obesity and progressive deterioration of glucose metabolism
Methods used for the project will include cell biology, molecular biology, animal experiments in zebrafish, genetic analyses and assessment of circulating factors in patient material as well as statistical evaluations.
Ihr Profil
We are looking for a dedicated scientist holding a degree (Master/Diploma or equivalent) in life sciences (biology, biochemistry, molecular medicine etc.). The successful candidate shall pursue an independent research project. We aim for a cumulative PhD thesis based on scientific publications. Experience in cell and molecular biology is desirable.
Successful candidates should be highly motivated, enthusiastic and demonstrate a strong research interest in pediatric endocrinology and obesity.
We are looking forward to applications of young scientists who appreciate the attractive environment of a young research group and who are enthusiastic about science. Please send your complete application including a motivation letter, a CV, all relevant grades, publication list, contact details of two references, and an abstract of own scientific projects and/or your Bachelor/Master/Diploma thesis.
Die Medizinische Fakultät der Universität Leipzig gehört mit ihrer über 600jährigen Tradition zu den größten Forschungseinrichtungen der Region Leipzig. Mit über 1.200 Mitarbeiterinnen und Mitarbeitern ist sie die größte von insgesamt 14 Fakultäten der Universität Leipzig und dient als Ausbildungsstätte für ca. 3.200 Studierende der Human- und Zahnmedizin sowie der Pharmazie.
Sie können sich bis zum 28.09.2021 auf diese Stelle online-bewerben.

Bewerbungen werden ausschließlich über das Bewerberportal entgegengenommen.

Mit dem Absenden Ihrer Bewerbung willigen Sie ein, dass Ihre im Rahmen der Bewerbung bereitgestellten personenbezogenen Daten zum Zweck der Bewerbung verarbeitet werden. Die Informationen zur Erhebung und Verarbeitung personenbezogener Daten für Bewerber finden Sie hier.
Auskünfte zum Bewerbungsverfahren erteilt Professor Dr. Antje Körner unter 0341/ 97-26500 bzw. antje.koerner@medizin.uni-leipzig.de.
Schwerbehinderte Bewerber/-innen werden bei gleicher Eignung bevorzugt berücksichtigt. Bitte fügen Sie Ihrer Bewerbung entsprechende Nachweise bei.
Diese Stellenausschreibung als PDF herunterladen.